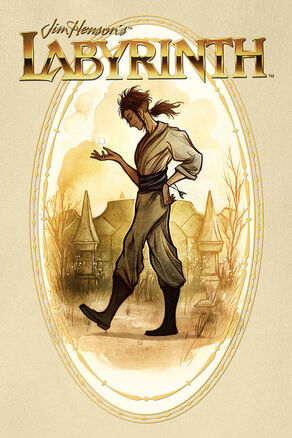 Archaia Comics are currently working on a untitled graphic novel that will serve as a prequel to the 1986 fantasy film Labyrinth, which is due to be released late in 2012.[1]
The writer and illustrator of the graphic novel have yet to be announced. Stephen Christy will be overseeing the project, and the concept designer of Labyrinth, Brian Froud, will be serving as an advisor.
An unrelated Labyrinth short story by Archaia Comics will be released as part of a collection of stories on Free Comic Book Day in North America in May 2012. The short story will be written by Ted Naifeh and Adrianne Ambrose, and illustrated by Cory Godbey.[2]
Plot
The novel will tell "the story of how Jareth became the Goblin King" and is a "David Bowie extravaganza."[3] The story is reported to feature a young Jareth who is taken to the Labyrinth by a witch.[4] Jareth will be around the age Sarah was in the original film. Sarah and Toby will not play a significant role in the plot.[1]
Editor Stephen Christy has stated the graphic novel will be a "tragic story." While it is still in the early stages of development, there are plans for the novel to integrate music into the plot in some way. David Bowie is being approached by Archaia Comics in order to seek permission to use his likeness, and ascertain if he wishes to have any involvement in the project. [1]
Brian Froud is serving as a creative consultant on the project. Froud will be producing covers for the series, as well as character designs.[1]
It is uncertain how many volumes of the project will be released, with Christy stating that "we might do it as a two-volume thing."[1]
Hoggle and the Worm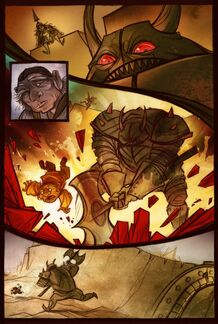 A short story named Hoggle and the Worm[5] and written by Ted Naifeh and Adrianne Ambrose and illustrated by Cory Godbey, will be included in an anthology of stories to be released by Archaia Comics on May 5 2012 to coincide with Free Comic Book Day. Hoggle and the Worm will be largely unrelated to the main graphic novel being developed by Archaia.
No details of Hoggle and the Worm's plot are known, except for the fact it will feature The Worm, Humongous and Hoggle.
References
Community content is available under
CC-BY-SA
unless otherwise noted.