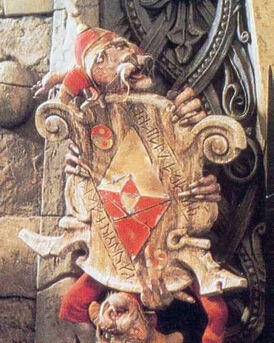 The Four Guards are posted to two doors in Jareth's Labyrinth, one leads to the next area of the Labyrinth and the other to 'certain death.' They present Sarah with a complex riddle she has to solve before she is allowed to pass the doors they guard.
The guards were puppeteered by Steve Whitmire, Kevin Clash, Anthony Asbury, and Dave Goelz, with the voices of Anthony Jackson, Douglas Blackwell, David Shaughnessy, and Timothy Bateson. The Creature Shop fabrication team consisted of Cheryl Henson, Ricky Eyres, Rollie Krewson, Polly Smith, Bernard Kramer, and Geoff Paige.
Role In The Film
Appearances In Other Media
Novelization
Community content is available under
CC-BY-SA
unless otherwise noted.