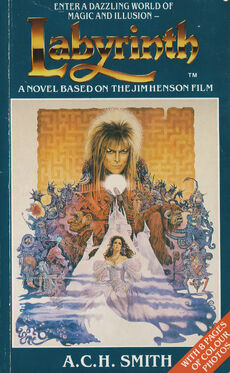 Labyrinth is the novelization of the film of the same name by A.C.H. Smith, which was first published in the U.S by Henry Holt to tie-in with the film's release in June 1986.
Back Cover Synopsis (U.K Edition)
Everything is unfair. No one understands her. She is alone in a friendless world. This is how young Sarah feels when she is left behind yet again by her father and hated step-mother to look after her baby brother Toby. Outside a storm is raging, inside Toby is screaming his head off; in a fit of temper, Sarah wishes the goblins would come and take him away. Unfortunately, they do.
Suddenly, Sarah is plunged into a whirlwind adventure.
Community content is available under
CC-BY-SA
unless otherwise noted.