(3 intermediate revisions by one other user not shown)
Line 1:
Line 1:
−

[[File:Storybook.jpg|thumb|Labyrinth: The Storybook Based On The Film]]

+

[[File:Storybook.jpg|thumb|Labyrinth: The Storybook Based On The Film]]

−

'''Labyrinth: The Storybook Based On The Movie''' is an illustrated children's box based on ''[[Labyrinth (film)|Labyrinth]]''. It was written by Louise Gikow, and illustrated by Bruce McNally.

+

'''Labyrinth: The Storybook Based On The Movie''' is an illustrated children's box based on ''[[Labyrinth (film)|Labyrinth]]''. It was written by Louise Gikow, and illustrated by Bruce McNally.

 
 
 

The storybook was published by Henry Holt in the U.S and Purnell Books in the U.K under the title Labyrinth: The Storybook Based On The Film. The storybook was also translated into German.<ref>[http://www.crazyattic.com/tgl/storybook1.htm Goblins' Library]</ref>

 

The storybook was published by Henry Holt in the U.S and Purnell Books in the U.K under the title Labyrinth: The Storybook Based On The Film. The storybook was also translated into German.<ref>[http://www.crazyattic.com/tgl/storybook1.htm Goblins' Library]</ref>

 
 
−

The storybook is now out of print, however a digital copy can be accessed [http://www.crazyattic.com/tgl/storybook1.htm here].

+

The storybook is now out of print, however a digital copy can be accessed [://.// here].

 

==Differences from the film==

 

==Differences from the film==

 
+

*Instead of saying Toby will 'become one of us,' as he does in the film, Jareth explicitly states that 'Toby will be turned into a goblin' if Sarah fails to reach him in time.

 
+

*The storybook explains the solution to the riddle of [[The Four Guards]].

 
+

*A skeleton is shown in the Oubliette, indicating the fate of one of its previous occupants.

 
+

*Instead of telling Hoggle that he will make him prince of the land of stench should Sarah kiss him, Jareth says he will plunge both of them into the Bog.

 
+

*Instead of merely distracting Sarah, The Fire Gang offer to take her to Jareth's castle.

 
+

*During the ballroom scene, Jareth tells Sarah to 'give up this foolish quest.'

 
+

*The final confrontation between Jareth and Sarah takes place in the Escher Room, and the dialogue also varies from that featured in the film. Sarah defeats Jareth by telling him that she loves Toby, and 'her gaze split' his heart in two because he had no strength against 'the power of love.'

 
+

*The book ends by stating that Sarah kept her promise to love Toby, stating that "she keeps it still, although Toby has long since grown up and Sarah has children of her own."

 

==References==

 

==References==

 
 
−

<references/>

+

<references/>

 

[[Category:Merchandise]]

 

[[Category:Merchandise]]
---
Latest revision as of 02:41, 17 June 2020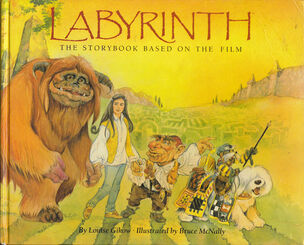 Labyrinth: The Storybook Based On The Movie is an illustrated children's box based on Labyrinth. It was written by Louise Gikow, and illustrated by Bruce McNally.
The storybook was published by Henry Holt in the U.S and Purnell Books in the U.K under the title Labyrinth: The Storybook Based On The Film. The storybook was also translated into German.[1]
The storybook is now out of print, however a digital copy can be accessed here.
Instead of saying Toby will 'become one of us,' as he does in the film, Jareth explicitly states that 'Toby will be turned into a goblin' if Sarah fails to reach him in time.
The storybook explains the solution to the riddle of The Four Guards.
A skeleton is shown in the Oubliette, indicating the fate of one of its previous occupants.
Instead of telling Hoggle that he will make him prince of the land of stench should Sarah kiss him, Jareth says he will plunge both of them into the Bog.
Instead of merely distracting Sarah, The Fire Gang offer to take her to Jareth's castle.
During the ballroom scene, Jareth tells Sarah to 'give up this foolish quest.'
The final confrontation between Jareth and Sarah takes place in the Escher Room, and the dialogue also varies from that featured in the film. Sarah defeats Jareth by telling him that she loves Toby, and 'her gaze split' his heart in two because he had no strength against 'the power of love.'
The book ends by stating that Sarah kept her promise to love Toby, stating that "she keeps it still, although Toby has long since grown up and Sarah has children of her own."
Community content is available under
CC-BY-SA
unless otherwise noted.