---
Revision as of 18:22, 9 October 2011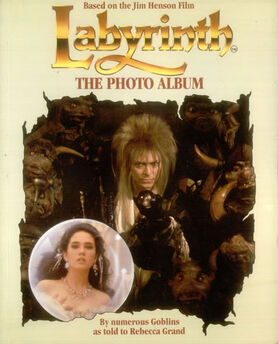 Labyrinth - The Photo Album is a tie-in book that tells the story of the film and is illustrated with stills. The book is subtitled 'by numerous goblins as told by Rebecca Grand.'
Labyrinth - The Photo Album was published by Virgin Books in the U.K, and by Henry Holt in the U.S. The book was published in a range of languages, including English, Spanish, Japanese and German.[1]
The book is currently out of print. However, a digital version of the book can be accessed here.
Narration Style
Labyrinth - The Photo Album features a rather unique narration style, and the story is told through the following means-
Narration courtesy of several goblins who follow Sarah's progress through the labyrinth.
Narration by Jareth, who addresses Sarah directly. The first piece of narration Jareth indicates that he knows she is about to call upon him as he spies on her in the park.
Dialogue lifted directly from the film.
References