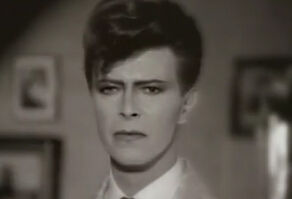 As The World Falls Down is a song written and recorded by David Bowie for the Labyrinth soundtrack. Although originally intended to be a single for a Christmas 1986 release, those plans were scrapped. With the idea of releasing the track as a single in mind, a promotional music video directed by Steve Barron was produced.
Use in the Film
Music Video
The music video features a mix of clips from the film, specially shot footage that shows David Bowie performing the song with Hoggle and clips a young woman - who appears to be an older version of Sarah - in an office.
In this music video, Bowie appears to be playing a Jareth who is pining after a grown-up Sarah. He is shown performing the track in an elegant room, with Hoggle as his sole companion. A portrait of Sarah hangs on the wall. At one point the portrait crashes to the ground, prompting Jareth and Hoggle to look to the door as they falsely believe there is someone on the other side. The doorway is empty, and Jareth is seen staring ahead grimly upon realizing no one was there.
Sarah is first shown in an office next to a photocopier which is printing multiple images of Jareth's face. Sarah initially appears to be mesmerized by a copy of the photo that is pinned to the wall and approaches it, only to jerk her face away suddenly as she nears it. A number of abstract set-pieces feature in the clip, one of which shows Sarah lying against a huge cast of Jareth's face. Sarah is last seen back in the office seen at the start of the clip. She is leaning against a table, and elevates one of her feet, allowing one of her high-heeled shoe to fall to the ground.
Community content is available under
CC-BY-SA
unless otherwise noted.